Plastic: a modern miracle material and a pollution nightmare. We use plastics every day, and usually whether we'd like to or not. The average consumer will create plastic waste from morning to evening, from brushing our teeth and washing our hair to making our morning coffee and shopping for groceries in the evening. It's a material so pervasive, so ubiquitous, that it takes conscious planning and a great deal of effort to reduce our consumption of what has become one of the most convenient but environmentally destructive materials on the planet.
With the Canadian recycling system struggling to keep up since China closed its doors to our recyclables, and the ever growing global ocean plastic pollution problem, there has never been a more pressing time to confront our plastics addiction. That said, there has also never been more innovation around ways to reduce plastic- and single-use waste. If you're serious about cutting down, read through these easy habits and new zero-waste products that can help you drastically reduce how much plastic you use, and in turn, discard.
Buy in Bulk
Why buy products in tiny portions, squeezed into bulky, non-recyclable containers or wrapped in layers of shiny plastic? Time to stock up on some cute containers and start shopping in bulk. It's definitely cheaper, probably healthier (unless you have the same Humpty Dumpty sour cream and onion ring addiction that I do) and many places (Bulk Barn does this now) will allow you to bring in your own reusable jars, tubs, and bottles. Just make sure they're clean, reusable, resealable, and made to hold food. Get preferred portions of dry staples (like pasta, rice, quinoa, beans), teas, coffee, snacks, as well as wet foods like peanut butter, honey, and oil. Is your zero-waste game already on point? Tag Bulk Barn in your Zero Waste Lifestyle Inspiration Post!
Focus on Plastic Waste in the Kitchen
There are so many alternatives to plastic out there to help you along your zero waste journey. Let's take a quick tour of the kitchen where you can make a lasting and impactful change.
Trade Your Ziplocs for Silicone Storage
Try bags like Stasher, or the more cost-friendly brands on Amazon. We prefer Stasher for being fully plastic free. Made of silicone, these can be microwaved, boiled, frozen and thrown in the dishwasher! They're not only great for food but also travelling to keep your valuables dry and organized.
Swap Plastic Wrap for Silicone Lids or Beeswax Wraps
Beeswax wraps have really kicked off! Fabrics that are treated with beeswax become waterproof, easily shape or mould to container sizes with gentle pressure, and will help keep your foods fresh. They are fully compostable and can be thrown in your organics bin after they're finished (and that's typically after a year of use).
For a longer term solution, opt for silicone lids. They come in a variety of sizes, are dishwasher and microwave safe and can be wrapped right on top of your bowl or pot for easy storage.
Exchange Aluminum Foil and Wax Paper for Silicone Baking Sheets
This isn't about plastic, but silicone baking sheets are an excellent way to help you on your zero-waste journey by replacing the need for aluminum foil or wax paper: materials that would end up in the trash. They're also very affordable, have a long lifespan and will save you money in the long run.
Change Your Toiletries
Our bathrooms are places where we often overlook just how much waste we're producing. It doesn't have to be this way!
Shampoo Bars: Google shampoo bars and you'll find a wealth of options to eliminate your inefficient plastic shampoo bottles. These are much more cost effective (one puck can last up to 80 washes!) and they often will not contain skin drying chemicals like phthalates or sulfates.
Refillable Shampoo or DIY Shampoo: Zero-waste and bulk stores are popping up more and more. With their help, you'll be able to refill your shampoo bottles, make a bulk purchase, or get castille soap to make your own shampoo blend!
Bamboo Toothbrush: Go for zero-waste glory and replace your plastic toothbrush with a compostable option that can be thrown directly in your organics bin after use.
Lose Your Chemical Cleaners
Vinegar/Water/Soap and Essential Oils: This might be the easiest zero-waste fix on the list. Avoid mysterious and harsh chemicals and save money and planet in the process! Grab some vinegar, essential oils, and water, and throw them in a spray bottle for an all-purpose cleaner that you could probably consume yourself without any serious health issues. How many products under your sink can you say that about?
Compostable Cleaning: There are a ton of options for compostable sponges and cleaning supplies. Check out Well.ca, Twist Clean or the Gaia Guy for sponges and toilet brushes made of plant materials that can all be thrown in the compost once you're done with them.
Laundry: Similar to the refillable shampoo, some zero-waste or bulk stores will have a liquid laundry detergent dispenser. Better yet, go for the laundry powder packaged in a cardboard box for easy end-of-use recycling! If you're ambitious, try making your own laundry detergent. With a wealth of DIY blogs and videos out there, making your own detergent can be a cost and planet saver.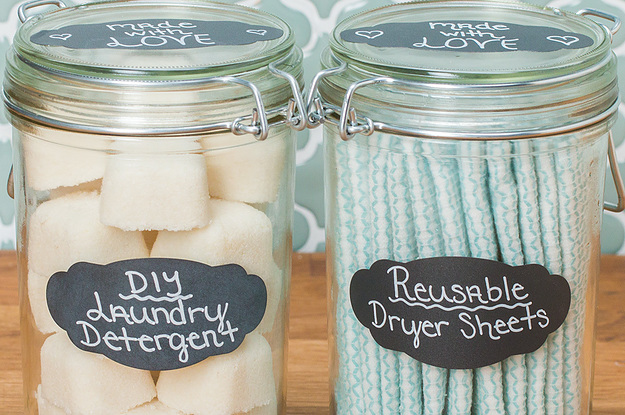 Produce Zero Plastic Waste Out and About
Create a Zero Waste Warrior Kit, and never leave the house without it. Stock your grab bag with Stainless Steel Straws and cutlery, a reusable produce bag, your insulated mug, and extra shopping bags before going out into the world. Many of the biggest challenges we face are partly out of our control, when we're at work, commuting, shopping, or socializing. Having your own materials with you will eliminate the need (or temptation) to simply use and discard.
Individual action is only one small piece of the puzzle; if major industries and corporations don't change (or aren't forced to change), then we're never going to change the narrative. If you can't meaningfully reduce the amount of plastic in your life, consider helping in other ways: becoming more aware of how your municipality deals with waste, taking part in consultations, lobbying or writing to your MPs, MPPs, and councilors, donating time or money to community and activist groups directly battling back against plastic waste, and beyond.
Oh, and read "Towards a Zero Plastic Waste Canada" declaration from Environmental Defence (and nearly 50 other environmental organizations) to get versed on where we need head!

— Post by Corporate Sustainability Manager Ellen Letts